Mrs Bennet's Ball – Regency Dancing at Hopetoun House
Linda MacDougall describes a recent ball with a difference attended by some of the Dunfermline Branch members.
Neil and I, along with Margo, Amy, Jimmie, John McLean and (in place of Sheila who is recovering from her shoulder surgery) Lesley-Anne Lumsden, recently attended the most glamorous evening in the magnificence of Hopetoun House Ballroom.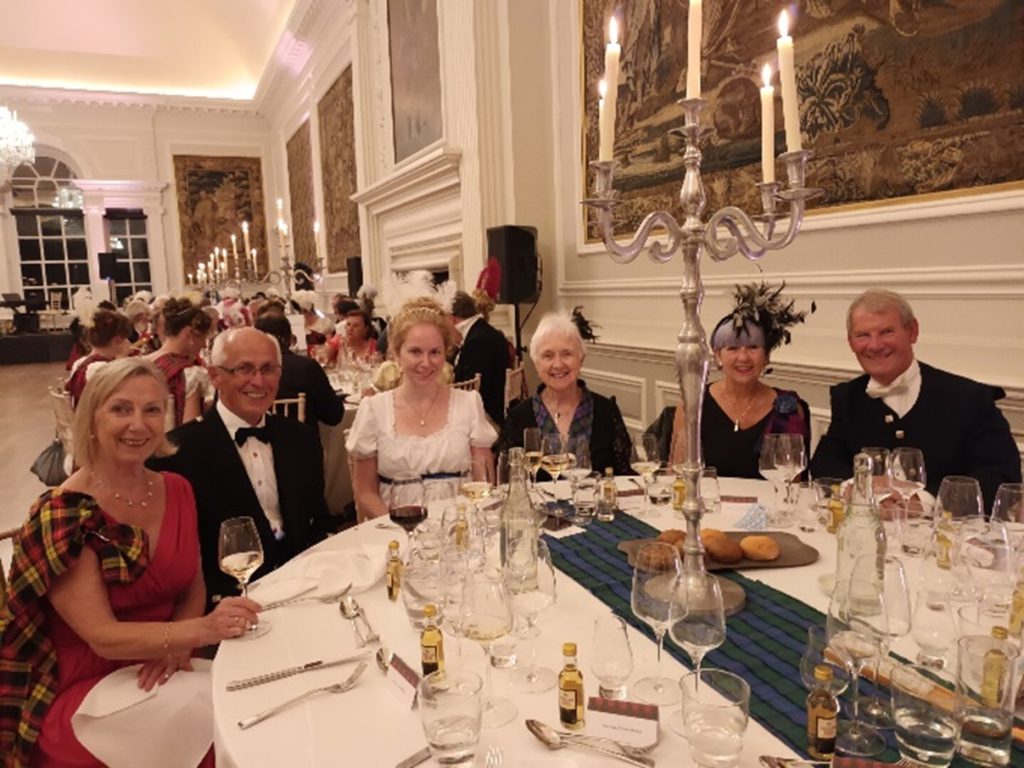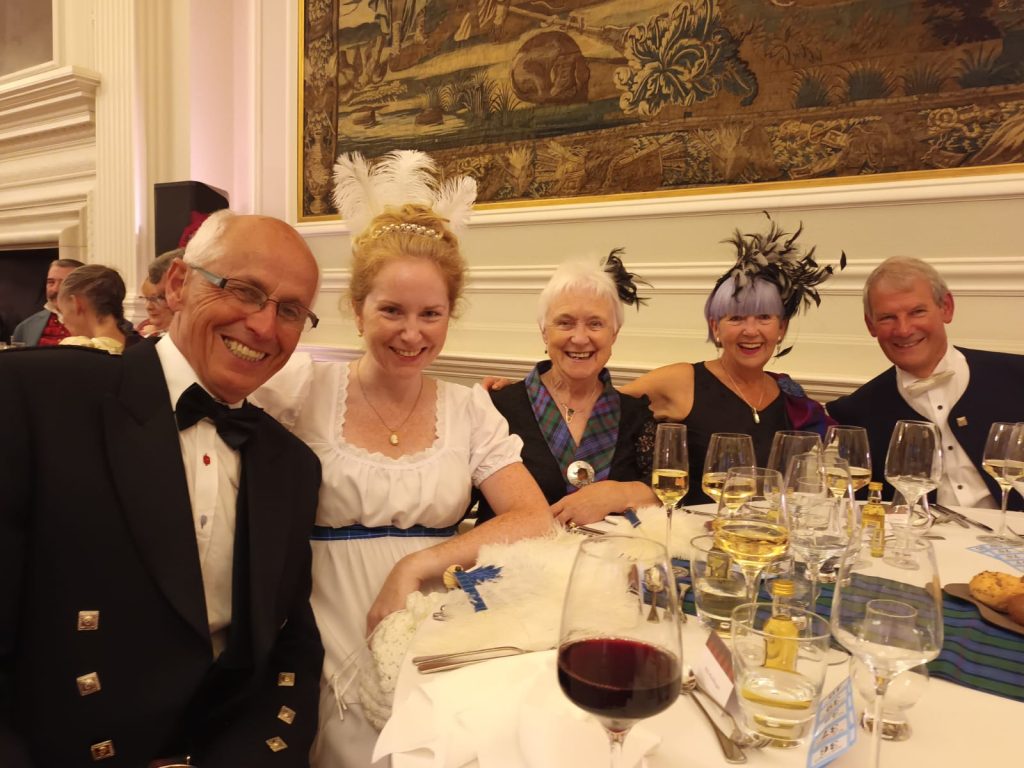 It was Mrs Bennett's Ball, an occasion to celebrate the 200th anniversary of King George IV's visit to Edinburgh where he declared that tartan could once again be worn in Scotland. There were about 120 dancers in an almost even mix of tartan clad Scottish Dancers and very authentically bedecked regency dancers, some of whom added tartan trim to their regency dresses, gloriously shown off in the wonderful ballroom at Hopetoun House.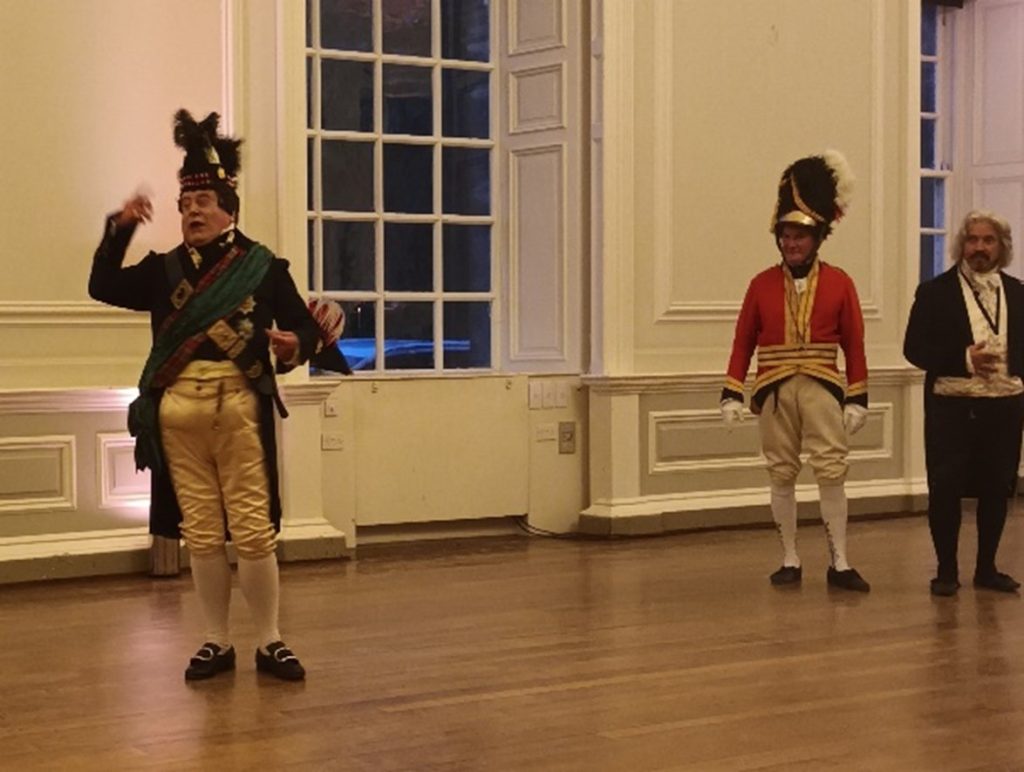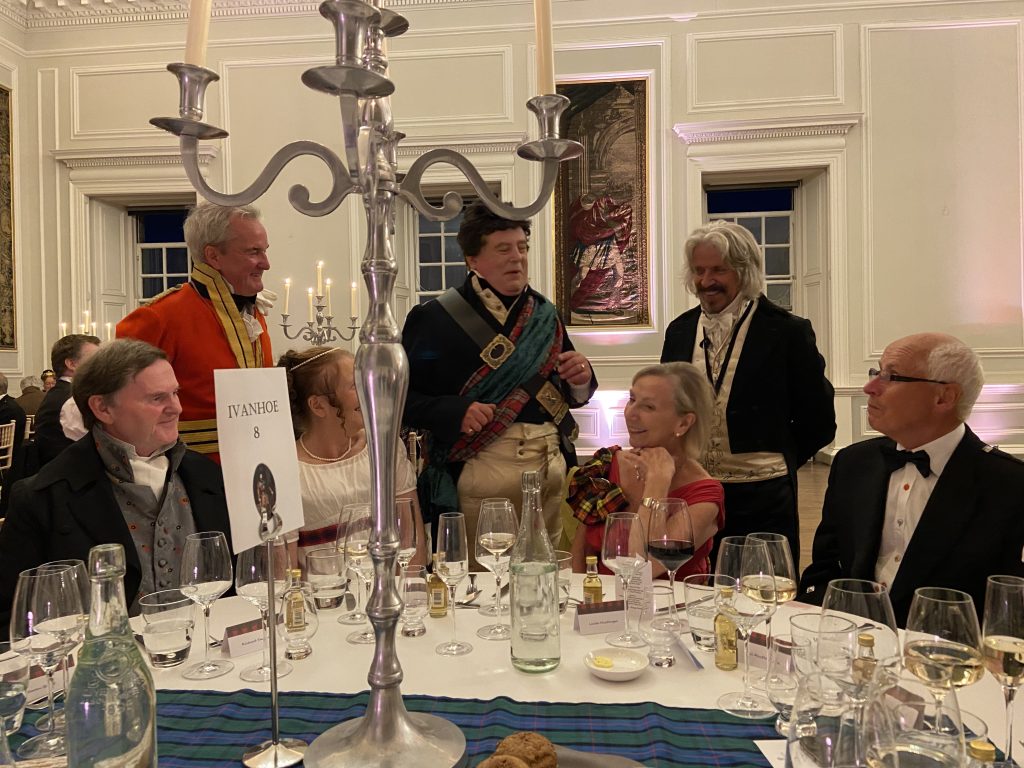 The Earl (played by Mark Wallis), King George IV (played by Ellis Pike) and his Equerry brought the occasion to life through their speeches of welcome and tour of the tables to speak to "His Subjects".
Dance practices were arranged prior to and on the morning of the Ball to ensure both groups could immerse themselves in the opposite's style of dance – a most interesting and enjoyable experience. Regency Dance is more gentle and may I say courteous than Scottish Dancing and the rhythm of music similarly is more gentle – their 8-bar introduction seems less urgent than our chord – but that's not to say it wasn't lively too. I enjoyed how the same dances could be danced just as well in either period's style in mixed sets.
What interested me most was how many of the Regency Dancers, some of whom had come from as far afield as Holland and Malta as well as many places in England, were totally immersed in the occasion. There was Regency Day Dress worn for the practice and, what appears to be normal for such weekends, going on outings (such as a tour of Hopetoun in costume) and picnics during the day before the formal Ball when much more elaborate costumes were worn by men and women. Like many interests there are specialists who make the hats, the dresses, the formal jackets and wonderful waistcoats for the men. I was first taken by the man in the carpark before the morning practice wearing a very wide top hat and pulling on his riding boots (with the appropriate aid) as if out of a period novel and his wife in her demure floral dress with a day coat and beautifully trimmed bonnet.
Music for both regency and Scottish dances was provided by "Gow's celebrated band" comprising of Alastair McCulloch, Andrew Forbes and Martainn Skene.  The Scottish dances were those arranged by Jimmie Hill, one of two dancemasters for the night, from Sir Walter Scott's novels and dance in the manner of the 1800s.
It was such a wonderful evening and memory.
The Grand Ball for George IV took place at Hopetoun House on 21 August 2022. The event was arranged by Mrs Bennet's Ballrom – https://mrsbennetsballroom.wixsite.com/site/home . Photos courtesy of Linda McDougall and John McLean.