A huge thank you to all of the dancers who attended our summer ball and contributed to such a successful and happy event. We have updated a our summer ball page with a few photos from the occasion.
As most will be aware the ball celebrated the life of our late Honorary President Janette McSporran and the centenary of the RSCDS. Particular thanks must go Nan and John, Janette's children, for their generous financial support. Thanks also to Jimmie Hill who told us about Janette's parents involvement in the establishment of the RSCDS and Janette's lifelong contributions as a both a teacher and musician.
Below, Nan and John cut the cake celebrating their mother and the centenary of the RSCDS while musician Frank Thomson looks on. After the evening, Nan sent a kind letter to our branch chair person Margaret Plumber.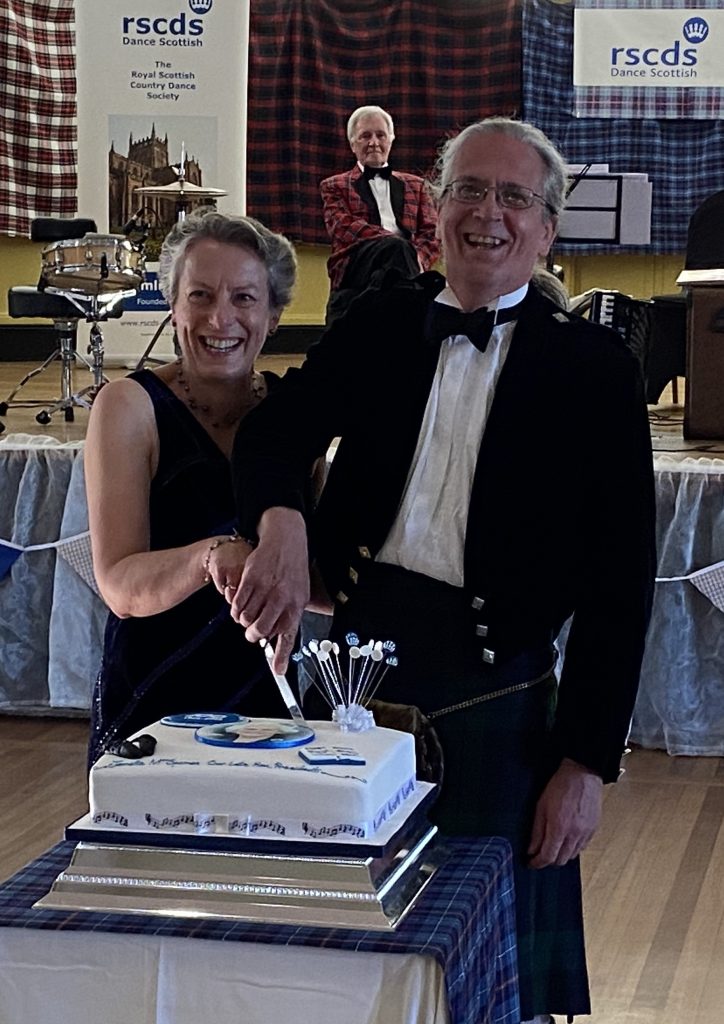 Dear Margret,
Thank you very much for inviting us as your special guests at last Friday's Ball. It was a wonderful occasion and a very fitting tribute to my mother – she would have loved it.
Everyone made us feel so welcome and it was lovely that so many were interested in the photos of mum's earlier dancing years – we really enjoyed meeting everyone.
Although we didn't dance, it was still great to watch and we thoroughly enjoyed the live band. Jimmie Hill's talk was of course really interesting and good to have him on our table as he has such a wealth of knowledge.
Please also pass on our thanks to the rest of the committee – we appreciate how much hard work goes into organising such events – and to the RSCDS Dunfermline membership for welcoming us so warmly.
With best wishes for the rest of the Centenary Year.
Nan